Advancing Retirement for Workers with Disabilities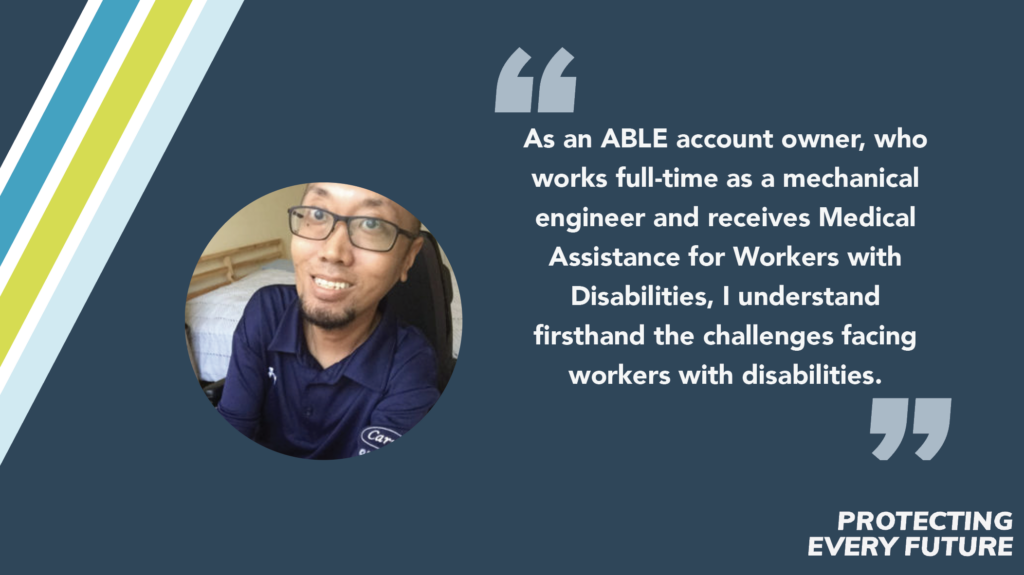 By Simon Cantos
The importance of Congress coming together to pass ABLE Age Adjustment cannot be overstated. This has been a goal of disability advocates across the nation for years. It happened through the bill known as SECURE 2.0, which made changes that will help millions of workers save for retirement. A key provision in that bill expands the ABLE Act to help workers with disabilities who face significant barriers to saving.

The ABLE Act allows people who acquire their disability before age 26 to save for retirement without losing federal disability benefits. SECURE 2.0 extends the age of eligibility up to 46. This simple change gives an additional 6.1 million Americans with disabilities more retirement savings opportunities.

As an ABLE account owner, who works full-time as a mechanical engineer and receives Medical Assistance for Workers with Disabilities, I understand firsthand the challenges facing workers with disabilities. The passage of the ABLE Age Adjustment Act enables more people with disabilities, including those like myself, who will always require some level of support through public benefits like Medicaid – an opportunity to work and save and pay for things that we need and want in life. It gives us a chance to succeed in life. It gives us a chance to "Achieve a Better Life Experience." I'm thankful for Senator Casey (D-PA) and leaders from both parties for supporting SECURE 2.0 and the expansion of the ABLE Act so that others can benefit from their ABLE accounts like I have.

To learn more check out our Kitchen Table Conversation Series where Tom Foley, The National Disability Institute discusses SECURE 2.0 and ABLE Age Adjustment with Senator Casey.
National Disability Institute:
ABLE NRC:
Simon Cantos: